Product design: 3D design or 2D design.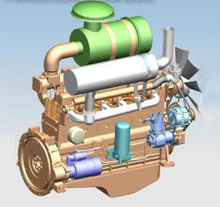 With six years experience in product design services, cool prototyping has specialized in all advanced technology in this field: CAD, rapid prototyping, molding and manufacturing.
As one part of product design, CAD plays a most important role in the process of product creation. CAD is the use of computer technology to aid in the design and particularly the drafting (technical drawing and engineering drawing) of a part or product, including entire buildings. It is both a visual (or drawing) and symbol-based method of communication whose conventions are particular to a specific technical field. Drafting can be done in two dimensions ("2D") and three dimensions ("3D").
Advantages of these drafting:
Product can be represented at right angles.
Lower product development costs
Greatly shortened design cycle.
Have a clearly overview of product's appearance.
With a 3D or 2D model draft, we can process to make prototype or mold.